Topical Use
If you are new to using essential oils, start slowly and remember that they are highly concentrated, and a little will go a long way. If you are using a new oil or blend for the first time, test it on a very small area first to be sure your dilution rate does not cause skin irritation. Some people test oils at the bend of the arm opposite the elbow or on the wrist. In some cases, the essential oil may be tolerated initially but can cause dermatitis reactions with subsequent use. Cinnamon and Clove statistically have the capacity to sensitize more than others, but interestingly, "these effects are related to topical application; it appears, from experience in the aromatherapy community, that the internal application does not carry the same risks."1
Carrier Oils: Using 'carrier' oils when applying essential oils is a time-honored tradition used when working with pure essential oils. It is felt by many aromatherapists, that because of the molecular structure of essential oils, the carrier oil enhances the trans-dermal delivery of the properties of the essential oils. They believe there is rarely a reason to use essential oils neat (undiluted) when applying topically, although there are definitely exceptions, such as using Lavender oil neat for burns, which is remarkable.
Jojoba oil is an excellent choice as a carrier, as it has no scent, has an indefinite shelf life and has antioxidant properties, although there are a number of vegetable/nut/seed oils that can be used as a carrier. Virgin coconut oil has larger molecules that may interfere somewhat with the skin's absorption of essential oils, yet it is regarded for its moisturizing properties and is chosen for use as more of a moisture barrier than to facilitate absorption of essential oils, whereas fractionated coconut oil has smaller molecules and is structurally different from unrefined coconut oil making it a good choice if absorption is desired. For joint pain, consider a carrier with anti-inflammatory properties such as infused Arnica oil or Emu oil.
Carrier oils are used to dilute or "extend" essential oils. Using a carrier oil lessens the intensity of *hot* oils (dilutes the heat), so when applying *hot* essential oils to the skin, we suggest that you dilute 1-2 drops in about a tablespoon of carrier oil. Apply to a small area of the skin first to see how your skin responds. For other essential oils, dilute 14-20 drops to 1-ounce (2-tablespoons/30-ml) for daily skin care. You can adjust with more or less carrier oil once you see how your body reacts and according to the need.
Dr. Pam Taylor, a practicing naturopathic physician, feels that there is a power released from the essential oil when it's diluted or extended. She explains: "It is important to realize that the main reason to use non-irritant essential oils undiluted is generally convenience. The assumption that undiluted essential oils will work more efficiently is generally not true. Perhaps surprisingly, experience often indicates that diluted oil is more effective than undiluted. Such observations can be explained chemically in that certain molecules rearrange into less active forms when they are present in high concentration. The molecule curls up because it sees too many of its own kind. Diluted, it sees more molecules from other oils and it relaxes into a more stretched out and active form."
Most oils can be extended (diluted) and still be effective to meet the need. When we use a hot oil such as Oregano, we dilute the heat and extend its possibilities. When we use Lavender after a shower, we extend it with a moisturizing oil and apply it as a skin moisturizer, or we extend Eucalyptus and apply it over our chest and back for a respiratory ailment.
If you feel that you want to use an oil neat (undiluted) because it feels most helpful that way (for example for a mosquito bite), as long as you don't experience skin irritation, then use it as you feel best meets your need. Anything can become a sensitizer, especially with undiluted or prolonged use. Risk can be affected by concentration, length of time on the skin, condition (health) of the skin and other factors.
Essential oils are a lipid and are attracted to the skin, which is also lipid. A single essential oil may have over 100 constituents, and the smaller components slip through the layers of skin more quickly than the larger components which take more time or don't penetrate at all. Once these constituents make it through the layers of skin, they are taken up by blood capillaries and begin to travel through the body.
While it is rare, essential oil constituents can combine with skin proteins to produce an allergic reaction (this is known as 'hapten'). Aromatherapist Shirley Price suggests that you put just a dab of diluted essential oil on the inner elbow to test for a reaction. A small number of people (0.1%) have a skin redness reaction to appropriately diluted essential oils.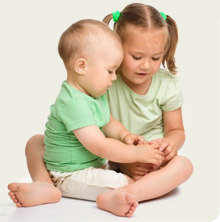 Some people are more sensitive than others. Ultimately the user must be responsible to take precautions necessary to avoid misusing the oils or experiencing discomfort. Use special caution when applying the oils on children or those who may not be able to adequately communicate discomfort.
For babies and small children, we typically avoid the use of *hot* oils unless the need calls for it, and then we only apply to the bottoms of feet with great dilution. For the very young and elderly we use greater dilution than for adults, such as 7-10 drops to 1-ounce (2-tablespoons/30-ml) carrier oil. You can always add more essential oil once you are comfortable with application. Less dilution is needed as children mature. The skin and organs of a newborn are very tender, and it seems best to use these potent essential oils with the greatest dilution possible to achieve the desired results. With this as the basis of usage, consider the need and follow what you feel as the Lord leads. Many essential oils can be used with less dilution without any harm. Always test your application on yourself first and then a very small area on your baby to be sure their skin will tolerate it. When applying the diluted blend on babies and small children, apply to the feet, lower legs and back to reduce the risk of the oil getting into the mouth or eyes. Worst case, it will be briefly unpleasant, but certainly worth avoiding if possible.
Use a carrier oil, not water, to dilute any unpleasant effect. Water is not a good choice for diluting an irritating oil because it traps the oil and drives it against the eye or skin.
One of the best and safest places to apply a potentially skin-irritant essential oil such as Oregano or Cinnamon Bark is to the bottoms of feet. We apply 1-2 drops to the bottom of one foot and then rub the bottoms of both feet together. If fighting infection, we feel that 1-2 drops 4 times daily is more effective than 8 drops once a day. There is only one oil that I'm aware of that is not recommended topically: Western Red Cedar.
These commonly used, potentially skin-irritant essential oils are usually diluted for topical use:
Aniseed
Bergamot
Cassia
Cinnamon Bark
Clove
Lemongrass
Oregano
Peppermint
Rosemary
Sage Dalmation
Thyme ct.thymol
Birch/Wintergreen
Ylang Ylang
"Sensitization is a process that leads to an overshooting immune response. With respect to essential oils this means they might be tolerated initially but can cause disproportionately strong dermatitis reactions with subsequent uses, even in response to minute concentrations. Some oils, especially Cinnamon (bark and leaf) and Clove (bud, stem, and leaf), statistically have the capacity to sensitize more than others. If used on the skin in concentrations above 2 percent, Cinnamon and Clove are considered irritant, meaning they will elicit an inflammation response from everyone, not just those who have become sensitized to them. Most interestingly, these effects are related to topical application; it appears, from experience in the aromatherapy community, that the internal application does not carry the same risks."7
Once you gain personal experience using the oils, you'll learn which oils you find most helpful and how best to dilute them for your need. To avoid skin sensitization, consider following the dilution rates for long-term use.
Therapeutic Bath and Shower
Bath
2 cups Magnesium Chloride or Epsom Salt (or perhaps a cup of magnesium and a cup of Himalayan or sea salt)
8-10 drops Essential Oil (choose oils that are gentle on the skin that you've tested and know will be well tolerated)
½ cup Apple Cider Vinegar (optional)
Combine the salt and essential oil and then add to hot running water. We like to get the bath water as warm as tolerable and then soak for at least 20 minutes for the full effect. We don't add a carrier oil to the bath, as that inhibits the absorption of the Epsom salt and essential oils. Rather, if desired, apply a moisturizing oil to your skin after the bath.
Magnesium Chloride or Epsom Salt
detox liver
muscle relaxant
pain reducing (fibromyalgia, arthritis, muscle soreness)
bronchodilator (may reduce asthma attacks)
shingles (may reduce severity of symptoms)
Shower
For the first time, start with a couple drops and apply to a small area of your skin. Once you are certain how your body will tolerate this application, then proceed as described.
After washing and rinsing, turn off the water. Apply a drop or two at a time to the feet, up the legs, abdomen, back, over the liver, chest, underarms and throat (avoid tender tissues). Ultimately you'll likely apply about 20 drops of essential oils. Turn the water back on. Continue to work the oil over your body as desired.
Essential oils for Bath/Shower
(Choose oils that are refreshing and gentle on the skin. This is just a sampling of choices offered by Kurt Schnaubelt, PhD.2)
Black Spruce – adrenal tonic
Cardamom – cramps
Clary Sage – relaxing
Cypress – decongestant
Eucalyptus Radiata – highly antiviral, easy on the skin
Geranium – relaxing
Lavender – relaxing
Myrtle – lungs and thyroid, easy on the skin
Niaouli – invigorating, broad reasons to use
Palmarosa – immune system boost
Petitgrain – relaxing
Pine – adrenal tonic
Ravintsara – immune system boost, nerve tonic, easy on the skin
Roman Chamomile – relaxing, easy on the skin
Rose – nerve tonic, relaxing
Rosemary ct. verbenone – mucolytic (it is very important to use the chemotype verbenone)
Tea Tree – cleansing, may be irritating to some
Thyme ct. linalool – candida (it is very important to use the chemotype linalool)
Once you are comfortable using the oils in a bath or shower, you'll discover which oils suit you best. Some people enjoy the invigorating tingle and muscle relaxing effect of using a blend such as Osme in their bath while others would never consider adding such a blend (that includes Peppermint) to their bath. Investigate the possibilities and your body will feel the benefits!
References:
1 Ibid, p. 81.
2 Ibid. p. 124-125.